So I directed a production of Mary Poppins at Young People's Theatre in Toronto that opened on Nov. 8, 2018 (3 days ago) and I had to post something. I have been inspired to share some thoughts about it.
First of all, I always love working at Young People's Theatre (YPT) because the entire crew, administration staff, custodial staff, box office staff are the nicest, most generous people ever.  And they are lead from the top by Allen MacInnis  (Artistic Director) and Nancy Webster (Executive Director) who are two of the most decent, thoughtful, funny, creative, helpful human beings in the business. Allen has been a friend for several years but in the last few years has become an unofficial directing mentor and he and Nancy have been two of my greatest supporters.
One of the many things I love about Allen is that he wants his theatre to reflect the cultural landscape of Toronto, so multicultural casting is always of the utmost importance.  As an actor/performer/now director of colour, I couldn't be more on board with that.
Jump back in time with me for a second (insert flashback music).  I saw my first shows at Stratford when I was 14.  I had heard of this big, prestigious theatre festival  – all fancy and high-end – where the best of the best assembled.  I didn't ever imagine performing there.  Not because I didn't feel welcome or invited … but I didn't see one person of colour on the stage so, I guess, it never occurred to me that it was a possibility.  Then when I was invited to join the Young Company, led by Marti Maraden, 6 years later, I couldn't believe it.  And I realized why I didn't think it was possible.
Years later when I went back to Stratford, I was playing the Duke of Suffolk in Henry VIII.  After a show, I was grabbing a bite to eat and three African-Americans who had seen a matinee of Henry came up to me and asked if they had just seen me onstage.   I said yes and they began to gush about how wonderful it was to see a black person in the royal coterie; a duke, no less.  They were thrilled to see one of their own be so highly placed in this production and not just playing a servant.  And I almost burst into tears. It's one of the largest moments of realization for me, that people are watching.  They are looking for themselves in places of worthiness.  It matters.  All the choices matter.
Through most of my career, I have been fortunate enough to be cast in many parts traditionally played by Caucasians.   For whatever reason, I've had directors willing to just cast me. There was no fuss, not great "effort".  They just cast me.  So when I was casting Mary Poppins, it was important for the theatre and for me to have a diverse cast.  I wanted all the little Thom Allison's in the audience to know that they can do this if they want to. They can act and sing and dance and make people happy and be accepted and encouraged.  Theatre should always be a place where everyone is welcome.
So when Vanessa Sears was interested in being in the show, I was thrilled as I've been watching her and enjoyed her and thought she was one of the most talented and charismatic actresses of her generation … of any race.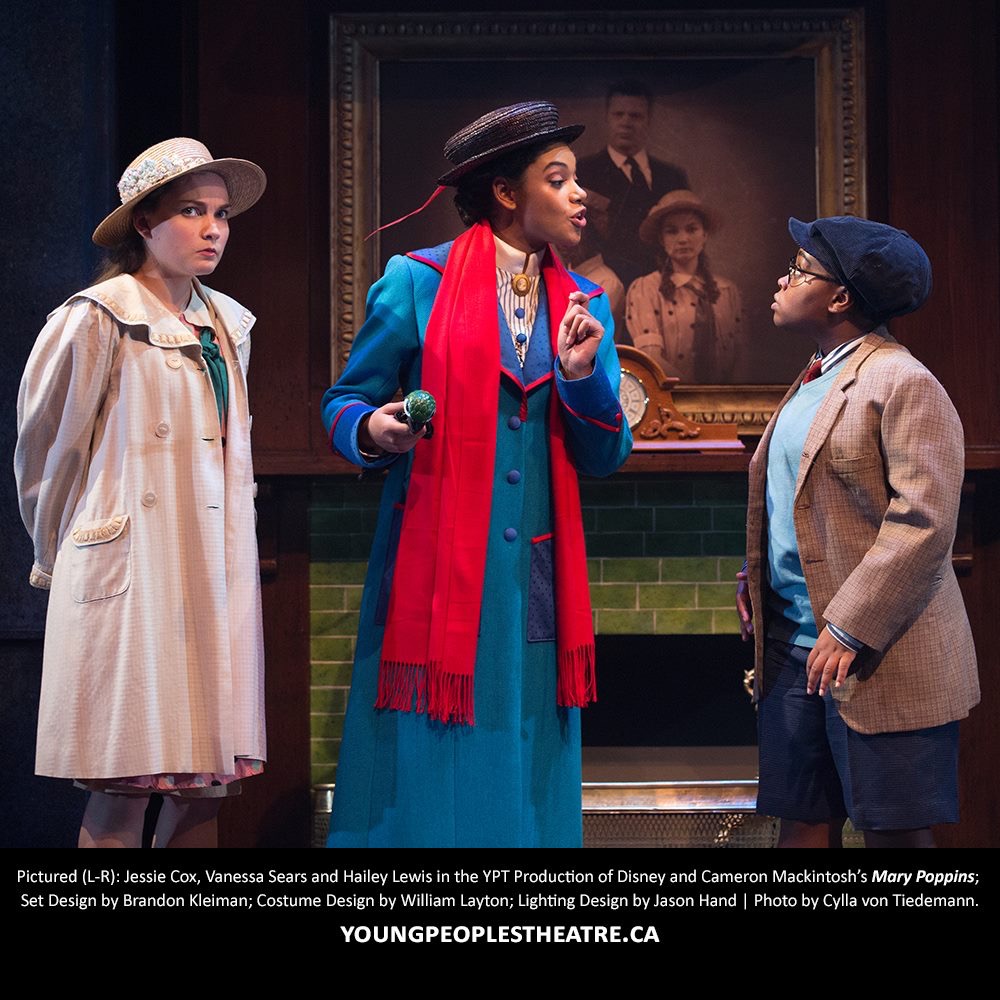 Photo by Cylla Von Tiedemann
But the real "aha" moment for the team was when Jewelle Blackman came in to audition for Mrs. Banks.  She did the scenes with a British accent, then we asked her what other accents she did.  She said she could do her mother's accent which was Trinidadian.  Suddenly, Mrs. Banks came to life in a whole new way and in a perfect way for a modern, young, Toronto audience to connect with this classic story of familial love and connection in a trying time.
We were able to create a more diverse cast and give the story some different nuances and flavours that let our audience see more of their family's experience.  It was a real labour of love.  Within a day of opening, we got our proof on social media that what we have done and what YPT is doing is having the positive effect we have wanted – inclusion.
This wonderful message appeared on Facebook from Tanisha Taitt:
_____________
Everyone should see this (Mary Poppins) because it's joyous and wonderful, but I have a specific request.
If you have a young black girl in your life, PLEASE take her to this show.
Take her to see the sparkling work (bravo!) of Jewelle Blackman and Hailey Lewis and Starr Domingue and Aisha Jarvis.
(Thom Allison – hell YES.)
Take her to see this beautiful woman (Vanessa Sears), whose performance made me think over and over, with a full heart, of how wide-eyed and brimming my niece will be when she sees herself in her.
I never had this as a child. Never knew I could be other than the audience.